Twelve bar
Twelve Bar Blues -personal design creation. Leie M2 Model


body Iroko - Mechanical grover Rotomatic - bridge ABR1
"roper" brass handmade with strings through the body
rosewood fingerboard with abalone nacre graduations
bolt-on neck - Micro humbucher kent armstrong with
a 3-position selector: single coil / series / parallel
(coupling of two coils of micro) - a volume potentiometer.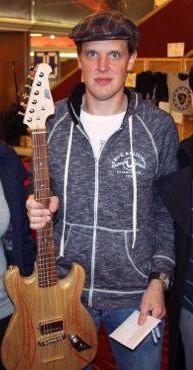 A gift for joe bonamassa in 2014 in Paris
Leie M1 Model - personal design of the body of the guitar - screwed handle


handle custom shellac.

exotic wood body and ash

rosewood fingerboard

21 large frets

seymour duncan humbucker neck pickup sl 59

kent armstrong pickup

mechanical grover

volume control and tone USA

inverter 3 positions USA

marker board abalone key.

landmark 12 th frets ivory with initials.

cellulose lacquer body.

tailpiece with string-through-type TV.